Our Letter of Wishes template:
Easy to edit without jargon
Solicitor-drafted for reliability
100% money-back guarantee
Can accompany any UK Will
Full guidance notes included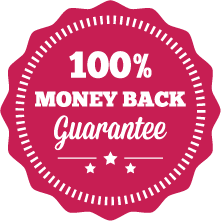 How Does It Work?
1. Download

2. Edit

3. Print

4. Sign
Our Letter of Wishes template is for use in the UK by someone who has already made a Will and now wishes to make specific directions to leave certain personal items to certain people.
The letter of wishes might be known by other names, and they all essentially mean the same thing, for example:
will letter of wishes template
memorandum of wishes template
last wishes letter template
statement of wishes template
letter of intent for will
expression of wishes template
The Letter of Wishes comes in the form of a template for use in the UK. as a Word document that you can download from our website.
We have deliberately kept the letter of wishes short and simple, but it includes a range of example or sample clauses that you might like to include. If you later decide to make similar directions about other assets, you can simply make another letter of wishes that just deals only with them – it will not invalidate or override the earlier one, so long as you do not try to deal with the same assets in both of them.
If you do want to override or change the earlier letter of wishes, then you should destroy the original one and replace it with one restating your choices.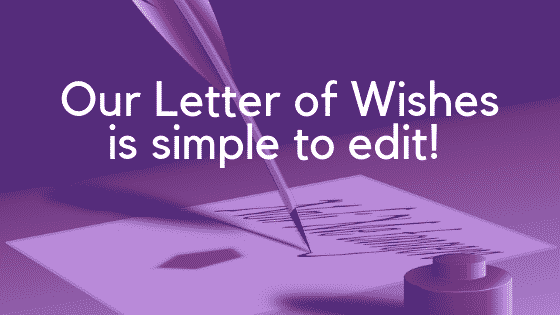 Should I use a Letter of Wishes or something else?
If your will already makes specific gifts of assets to people, do not use this letter to revoke or change them. Instead, use a Codicil template to amend a Will. This letter should only make directions about matters already covered in your Will or related instructions, such as burial wishes. For Wikipedia's take on it, see this: https://en.wikipedia.org/wiki/Letter_of_wishes. There is also a helpful article on Investopedia about using a letter of intent, and it has some good ideas on what you should cover in it (not all of which are in our sample): https://www.investopedia.com/…/do-you-have-crucial-financial-letter.asp.
Please note that a letter of wishes is not like a Will.  It is not legally binding on the person or persons it addresses. There are no prescribed clauses that you must include or not include – it is up to you. There is no special way in which you must sign it. It is merely an expression of your desires or preferences. If the person it is addressed to chooses to ignore it, then no-one can legally enforce it. At the end of the day, it is just an expression of your wishes. If you want it to be binding then you need to:
update your will, or

add a codicil to your will.
If you are concerned to make legally binding gifts, then you either need to update your Will or add a Codicil to it (the Codicil might only deal with such gifts so it is simple to put in place).  We have a selection of templates for Wills and Codicils available – see our full range here.
Clauses included in our Letter of Wishes template
The details below will give you a good idea of the matters covered by the memorandum of wishes template, in the absence of a complete preview of the document:
Completing the initial sections of the letter of wishes wording
Address it at the top to the person to whom your personal possessions have been left in your will. This might not be one of your executors.

 

It might be the person to whom you have left your residuary estate.

 

If more than one person, then put all their names and addresses in here.

Fill in the date, i.e. the actual date you sign it.

Below the date, after where it says "Dear", fill in the name or names of the person(s) it is addressing. (Just as with a normal letter, you can use their first names here if you like.)
Completing the main paragraphs
In the next paragraph, fill in the date of your latest Will.

Where the bullet points are, fill in the details of each item that you wish to deal with here. With each item, include the name of the person (and preferably also their address) you want to receive it.

 

You can add further similar bullet points or delete any ones you don't need.

 

Make it clear which items you are referring to so there is no doubt. Be as specific in identifying them as possible.
Fill in details of the people who are specifically to be notified in the event of your death. For example, this might be people who might not be obvious to the executors. Include some contact details, such as their telephone. You may also wish to include an address and email, although don't forget that the latter can become out of date quickly.
There may be certain people that you would not want advised of your death, e.g. long-estranged family members. You can list them here. (If this does not apply, delete this section.)
Key assets; funeral directions; guardianship provisions
Next we have included a list of key assets you may wish to provide further details about. This is so that the executors can find them quickly and easily. These should all be assets left in your will. We have suggested you cover: properties; bank accounts; life insurance policies; and any other key assets, such as jewellery. Insert a good description, so the executors will know exactly what each item is. Specifically note anything held in a bank safety deposit box. Delete any sections that don't apply.
If you have any additional specifications about your funeral, burial or what is to be done with your ashes, then you can add in the details in your own words. Ensure this does not conflict with anything stated in your will.
You can use this section to provide an explanation in the event that you have chosen to exclude someone from your will. This is particularly relevant if you think it may be disputed later (e.g. if the person is a dependent). If more than one key person is excluded and you think explanation is needed, then just duplicate this paragraph and fill in the next one's details. (Where this does not apply, delete this section.)
When you have children who are minors (under 18), you can include details of how their guardians should bring them up. (NB you should have included a clause in your will to appoint guardians in this case.) Don't forget to review these details as they grow up.
Finishing off your expression of wishes letter
Signature clause

– Treat this as a simple letter, so finish it off by signing it and stating your name below.

Now keep it somewhere safe – ideally the letter of wishes is intended to accompany a will, so store it alongside the original of your Will.
You should find our letter of wishes template quick and easy to complete with our full guidance notes. They are included when you purchase the template.