Our general Codicil template:
Amend your will without a lawyer
Over 400 codicil templates sold!
Simple-to-edit codicil template form
UK-solicitor-drafted template for reliability
Legally binding and valid document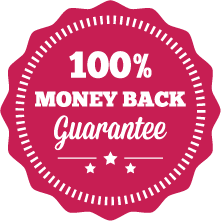 How Does It Work?
1. Download

2. Edit

3. Print

4. Sign
Our codicil template is a simple document – use it to vary your existing Will easily and quickly.
This is one of our best-selling templates, with over 400 sold!
This Codicil to a Will is in template form. You can easily edit it, with the aid of our full guidance notes, which are included. It is suitable for wills made anywhere in the UK – Scotland, Northern Ireland, England and Wales.
Prepared by David, our co-founding lawyer, you get a document that can be relied on to be legally binding and valid, whilst being cost-effective.
David has written this short-form document in plain English, so it is free from legal jargon.
Using this Codicil to a Will Template
Download the document in Word format and then edit it on your computer. We have highlighted, with square brackets, the blank areas that you need to edit to adapt the template to your specific requirements.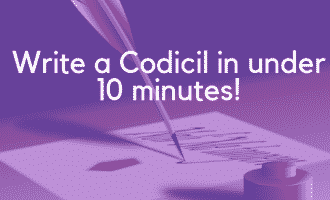 We have carefully written detailed guidance notes that are included with the downloaded template.
These notes explain each clause and how to complete the Codicil to amend your Will.
Finalising the Codicil is quick and simple.
Using our guidance notes, you should be able to complete your template within 10 minutes. It is a printable document. Just print it off and then carefully sign it in accordance with the instructions that are in the guide which accompanies it.
This is the standard version of this template. We have pre-edited versions for making common amendments to a Will. You can browse them in our Wills and Probate section.
What is a Will Codicil?
You can use a Will Codicil to amend the terms of an existing Will legally. (See Wikipedia's explanation of what a codicil is here.)
View a sample of our template by clicking the sample 'preview' button above.
Once completed, you keep the Codicil with your Will. It acts as an addendum to the Last Will and Testament.
The amendments will be just as legally binding as your Will, so set out the changes in the Codicil once you have decided on them.
You will put the date that you signed the Codicil. Then there can be no confusion about what your current wishes are. You can amend any of the terms of your existing Will, including details of your executors.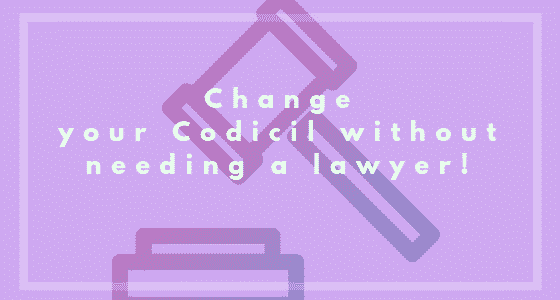 Signing the Codicil
Once you have drafted and printed your Codicil, then you will need to sign it in the presence of two witnesses, who must also add their signatures. This is just as you did with your Will, to make it legally valid and enforceable. It is very important that you take care over this to get it right. Just like with your main Will, the 2 witnesses must be adult witnesses, preferably unrelated to you. A beneficiary under your will or codicil should not be used as a witness.
Once you have done this, then it will effectively become part of your Will.
Adding a Codicil is a most cost-effective way of amending your Will. You do not have to pay a solicitor to draw up one when you use our online template.
Before going ahead with your template, you must bear in mind that a Codicil is better for making only small changes only and, if you want to draft many, it would be better to draw up a new Will. You can see our full range of Will templates here.
Guide to our Codicil Template
Below we have printed an excerpt from the guide to this template (the full guide comes with the template when you buy it):
1. Scope
In clause 1.1 please insert your full name and home address. In clause 1.2, if you have not made previous Codicils to your current Will, then adjust the wording so it is clear this is your first such amendment to your current Will. If this is your second or third Codicil to your current Will, refer to the previous ones. Fill in the dates.
2. Amendment of my Will
This is the main clause in the Codicil that amends the Will. Here you can specify the  to your Will.
If you are deleting provisions from your Will and not replacing them, then use clause 2.2. Here you have 2 options. If only deleting one clause, use the wording of option 1; when deleting more than 1 clause, then use option 2 and, in either case, set out the relevant clause number(s).
If you are deleting a clause in the Will and replacing it with new wording or amending the wording, then use clause 2.3. Refer to the clause you are deleting. It is best to set out the wording for the whole new clause here in the Codicil. Rather than trying to refer to certain words phrases or sentences of the original clause in the Will as being deleted and replaced with new ones or in a schedule (if the wording is lengthy or complex).
If using a schedule in the codicil, refer to the number of the schedule here, and then fill in the schedule. In the schedule to this guide, which is below, you will find a sample of helpful clauses that you might like to use to help you word your new clause. You can copy and paste them into the Codicil template.
If you are adding a new clause, use clause 2.4 for this. As before, it is best to set out the wording for the whole clause here or in a schedule. If using a schedule, refer to the number of the schedule here, and then fill in the schedule. As noted above, the schedule to this guide has a sample of helpful clauses that you might like to use.
Delete any of clauses 2.2 to 2.4 that you don't need to use.
3. Codicil Confirmation
This clause confirms that, other than the changes made by the Codicil (or previous Codicils), the rest of the Will remains in force.
Schedule 1
As noted above regarding clause 2.3, if you are replacing a clause in the Will with a lengthy new clause, then you can set it out here. Fill in the number of the clause from the Will that you are replacing in the 2 places and then fill in the new clause's wording in its entirety.
Schedule 2
As noted above, if you are inserting a lengthy additional clause into your Will, then you can set it out here. If there is no other schedule, then renumber this as schedule 1. Fill in the numbers of the 2 clauses from the Will that this additional clause slots in-between; then fill in the number of the new clause and its wording.
As you can see from the guidance notes above putting in place a codicil is easy. The simple way to amend your Will.