Will For Couple Without Children
Our Will For Couple Without Children template:
Ideal for couples without children
Template drafted by a UK legal expert
Full money-back guarantee
Create your legally binding will in minutes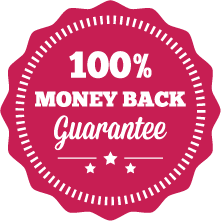 "It was so easy I filled it in during my lunch break."
– Mr C of Colchester [Will for single person with children]
How Does It Work?
1. Download

2. Edit

3. Print

4. Sign
This Will For Couple Without Children template is a version of our standard will template, which has been adapted specifically for use by a couple that does not have children. Both married and unmarried couples can use this will template, so long as you live in the UK. That includes England, Wales, Scotland and Northern Ireland.
You can buy it once, and use it for both of you, so it really is good value. If you ever need to update or amend your will, you can download the latest version free of charge. So with Legalo you only pay for your will once. You can reuse it yourselves as many times as you want and never pay again.
Detailed guidance notes come with our template, which walk you through each clause in the will template. The guide makes it so easy for you to produce your will from the template. Please note that our will templates do not include setting up a trust by your will. That is because (a) trusts are complex and (b) most people do not need them.
When you create a will when you have no children, it ensures that your wishes will be implemented as to whom you want to leave your estate. This is particularly important for unmarried couples. Unmarried partners do not automatically pass any of their estate to their partner. Don't forget that there is no such thing as a "common law" wife or husband in English law.
You would not want to have no will and end up with the intestacy rules applying, which might leave nothing to your unmarried partner.
Using this Will For Couple Without Children template
David, our co-founder and solicitor of over 20 years, has created this will template. By taking 15 minutes each to complete your will template, your partner and yourself can have peace of mind.
You can download the template and the helpful guidance notes, which come with the template. Then you can start writing your will at your computer. It really will only take you a few minutes to sort it out and gain the peace of mind that you now have a valid will in place that reflects your wishes. We offer a full money-back guarantee – we are that confident in our template.  So you can request a full refund, if you are unsatisfied.
What if I don't make a will?
If you fail to make a will and die "intestate", then there are rules which say who inherits your estate. There are not always fair to your close relatives and you may well not want them to apply. You can find the details of the intestacy rules here: https://www.gov.uk/inherits-someone-dies-without-will. For more information on some specific situations in which you would definitely not want the intestacy rules to apply, have a look at our blog article on this.