Will For Couple With Children (Married or Unmarried)
Our Will for Couple With Children template:
has been drafted by a UK lawyer for reliability
is suitable for married or unmarried couples
includes detailed guidance notes
takes about 20 minutes to complete both your wills!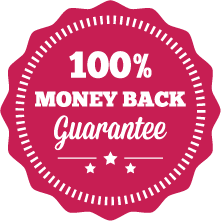 "It was so easy I filled it in during my lunch break."
– Mr C of Colchester [Will for single person with children]
How Does It Work?
1. Download

2. Edit

3. Print

4. Sign
This will template for people with children is suitable for both married and unmarried couples. It works for couples who live in any part of the UK – Northern Ireland, Scotland, England or Wales.
Creating a will when you have children is a significant safeguard (which is even more important if you are unmarried) and ensures that your wishes will be implemented. This is particularly important for couples that are not married and may otherwise not pass their estate to their partner and child custody issues can be more complicated. See our explanation of the issues here.
If you are unmarried and do not make a Will, then the Intestacy Rules will apply to your estate. As a result, all your assets might go to your children, as your legal next of kin, and your partner might receive nothing on your death or face the difficult and expensive prospect of making a claim against your estate, which may or may not be successful. It would certainly be traumatic and add more pain to their loss. You can rapidly solve these problems by making a Will based on our great template.
By taking 20 minutes to complete your will template, your partner, children and yourself are covered and the Intestacy Rules will not apply.
This will is a variation on our standard will template and has been created by David, our co-founder and solicitor of over 20 years. He has edited it to make it specifically suitable for people that have children and are also in a relationship, whether married or not.
So don't put it off any longer – you can both make your wills in just a few minutes with Legalo's great template.
Using our Will For Couple With Children template
Downloadable in Word format, our template comes with detailed guidance notes that walk you through each clause in the will template. You can download the template and the guidance notes, which are included, and then start writing your will at your computer straight-away. We offer a full money-back guarantee, so if you are not completely happy with the document, for any reason, you can request a full refund.
If you would like to see the full range of our Will templates, just click here.