Discount Package: Website Compliance
Our Website Compliance package:
Fantastic 33% discount
Stay legal with online trading
GDPR-compliant
Free updates for life
Money-back guarantee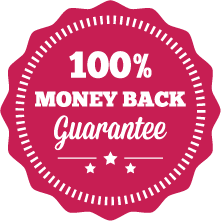 "Just wanted to say thanks. Great website." [Privacy policy & terms of use of website]
– Mr W of St Stephen
"Many thanks again for your excellent privacy policy template and the service you provide." [Privacy policy]
– Mr W of Harrow
How Does It Work?
1. Download

2. Edit

3. Print

4. Sign
This is a website compliance package, offering you an unbelievable 33% discount off our normal low prices if you buy this specially-selected bundle of templates. These templates, which include some of our most popular ones, have been brought together because we want to make legal compliance issues easy for you.
What is website compliance all about?
So be web legal and GDPR-compliant with our Website Compliance pack. See our guide to website legal compliance and our guide on the GDPR changes for more details.
We know compliance can be a bit of a minefield. So here's a link to some helpful free advice on online selling and compliance: https://www.bigcommerce.co.uk/blog/online-business-laws/.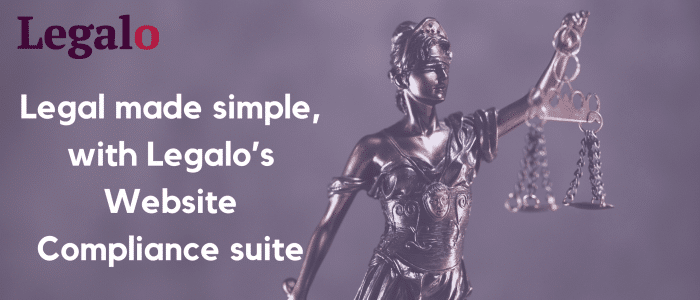 What's in the Website Compliance pack?
Because you want to get trading online legally, our special website compliance package includes all the templates you need:
our Terms and Conditions of Trade templates (various types – both B2B and B2C sales – including ones suitable for online sales);
our Privacy Policy (now GDPR-compliant);
a Cookies Policy (included in the privacy policy) – a key website compliance document;
our Terms of Use of Website;
an Acceptable Use Policy (included in the terms of use of the website); and
also our Email Disclaimer.
This is a great opportunity to buy these website compliance templates because of this generous discount.
How do I get this great website compliance discount?
So to obtain this discount, all you need to do is click on the "Add To Basket" button to the right, which will add the website compliance bundle to your cart and apply an automatic discount of 33% off our normal prices if you bought them separately. (So please ensure you do not also add any of the products to your cart separately at the same time, or delete them before you check out.)
Get the Legalo advantage for your website compliance …
With this website compliance combined discount package, you still get all of the benefits of buying your legal templates from Legalo:
professionally-drafted legal contracts from an experienced UK lawyer;
kept up to date with the latest changes in the law;
free updates of all of these compliance templates for life. So when the law changes, then we will send you the latest version;
the full text of our normal website compliance templates;
the full guides to go with the compliance templates;
plus our money-back guarantee; and

also free access to our helpline by email and telephone.
So what are you waiting for? Get saving now on website compliance with the Legalo advantage.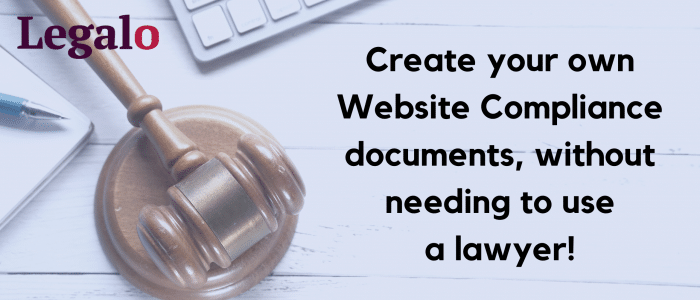 FAQs on Website Compliance
Below, we have answered the top questions from the Internet on this topic.
What is legally required for a website?
Legally required elements for a website include a privacy policy (compliance with data protection laws), terms of service, cookie consent and owner contact information. You can make sure that this is all taken care of with the Legalo Website Compliance discount package, in which you can download a number of important legal documents, ideal for to your website, at a discounted price.
What is meant by a Privacy Policy?
A privacy policy is a legal document on a website that explains how the site collects, uses, and safeguards user data. It informs visitors about data processing practices, details their rights in regards to this, and includes contact information for inquiries. Such a document is essential for transparency and compliance with UK and/or EU data protection laws.
What are GDPR requirements for a website?
GDPR requirements for a website include obtaining clear user consent for data collection, providing a transparent privacy policy, enabling data portability and deletion upon request, implementing robust data security measures, and appointing a Data Protection Officer if necessary. Websites must also report data breaches within 72 hours and refrain from transferring data outside the EU/EEA without adequate safeguards. So GDPR is one of the toughest user privacy laws in the world and must be followed to avoid any potential legal problems in the future.
The equivalent law, now the UK has left the EU, is the Data Protection Act 2018.
Do UK websites need to be GDPR compliant?
Yes, UK websites need to be GDPR compliant, even after Brexit, as the UK has incorporated the GDPR into its domestic law from 2018 (under the Data Protection Act 2018). Therefore, websites operating in the UK must still comply with GDPR principles regarding data protection, user consent, and privacy rights, in addition to potential UK-specific data regulations, with failure to comply resulting in possible legal consequences and fines.
What defines GDPR?
The General Data Protection Regulation is a comprehensive European Union law that regulates the processing of personal data by establishing rules for data collection, storage, and usage, emphasising transparency, user consent, and data subject rights. GDPR applies to all organisations handling EU citizens' data, regardless of location, and mandates stringent data protection measures, breach reporting, and potentially significant fines for breaches of the law.
What policies do I need on my website?
You typically need the following compliance policies on your website:
Privacy Policy: Explains data collection and usage.
Terms of Service: Outlines user obligations and site rules.
Cookie Policy: Notifies users about cookie usage.
Disclaimer: Limits liability for content accuracy.
Copyright Notice: Protects intellectual property.
Accessibility Statement: Ensures inclusivity.
Returns and Refunds Policy (for retail and sales websites): Details product return procedures.
What are the Companies Act 2006 website legal requirements?
Under the Companies Act 2006 in the UK, companies must by law display specific information on their websites. This includes the company's registered name, registration number, registered office address, and details about shareholders' rights, and must mention their VAT registration number if applicable. Therefore, this helps to provide transparency and access to essential company information for visitors and stakeholders.
Do all websites need a privacy policy?
Yes, privacy policies are legally required in the EU and UK. It's essential when collecting any user data to inform users about data handling practices, their rights, and how you protect their privacy. Even if you don't directly collect data, third-party tools like Google Analytics may require a privacy policy due to data-sharing practices, so it's advisable to include a privacy policy in this scenario also.
How are websites regulated in the UK?
Website compliance in the UK is primarily regulated through data protection laws, including the Data Protection Act 2018, which aligns with GDPR. These laws govern how websites collect, process, and protect user data. So websites have to comply with consumer protection regulations, advertising standards, and accessibility requirements, to ensure inclusivity.
Does a website need terms and conditions?
Yes, a website should have terms and conditions (also known as terms of service or terms of use) outlining user obligations, site rules, disclaimers, and liability limitations. While not legally required in the UK, they can establish clear guidelines for website usage, protecting the website owner and visitors on a number of issues, reducing legal risks and enhancing user trust and understanding of your website's policies and expectations.
What is the difference between B2B and B2C?
B2B (Business-to-Business) involves transactions between businesses, where one company sells products or services to another for commercial use. B2C (Business-to-Consumer) focuses on selling products or services directly to individual consumers for personal use. B2B often involves larger, more complex deals, while B2C typically targets a broader consumer market making a larger number of small sales. The marketing, sales, and product/service considerations differ significantly between the two models. This is because of their distinct customer bases and buying behaviours.
Is a cookie policy required in the UK?
In line with EU and UK regulations such as GDPR, a cookie policy is legally required in these areas. Websites must inform users about the use of cookies, obtain consent for non-essential cookies, and provide details on cookie types, purposes, and data collected. Compliance with this requirement demonstrates respect for user privacy and helps meet legal obligations. Failure to have a cookie policy can result in fines and legal issues, so it's a crucial aspect of website compliance in the UK.