Get compliant with the law on GDPR
UK-expert-drafted templates from a GDPR specialist
A Comprehensive GDPR compliance kit
Produce your GDPR policies quickly and easily
Everything needed in one GDPR kit
How Does It Work?
1. Download

2. Edit

3. Print

4. Sign
Here in our GDPR compliance kit we have gathered together all the essential documents you need to ensure your business or organisation is GDPR-compliant.
This kit has been created by Legalo's co-founder Stephen who has ober 18 years experience in advising on data protection law. So you get a kit created by an expert in this area of the law.
With all the unique benefits that you get when you buy from Legalo (click here for more details), you also get a generous 33% discount off our standard prices for these templates when you purchase them together as our GDPR compliance kit.
What is in the GDPR Compliance Kit?
This essential GDPR kit includes the following templates:
our best-selling Privacy policy and notice template (includes a cookies policy)
Staff and contractor data privacy notice template (use with your HR procedures)
Supplier contract addendum template – data processing warranties
Customer contract addendum template – data collection warranties
Candidate privacy notice template (use with your HR procedures)
Record of data collection and processing activities (under Article 30 of GDPR)
As with all our discount packs, with our  GDPR compliance kit you still get the full text of our standard templates and the full text of the guides that come with them  – the step-by-step guidance on how to use and complete them.
All of this for just £120! On top of this, we also offer our no-quibble money-back guarantee for your peace of mind.
Our GDPR Kit Includes Bonus templates!
Within the GDPR kit are a few free extras. We are also giving you the following legal document templates with this pack, so you get GDPR and website compliant all in one go:
BONUS 1: terms of use of website template (includes an acceptable use policy) – worth £7.95
BONUS 2: email disclaimer template – worth £4.95
Free Kit Updates For life
As with all Legalo templates, you get free updates for life for all of the templates in our gdpr kit. So when the law changes or we update a template, we notify you.
This ensures that your business will remain GDPR compliant even after the law changes.
For example later in 2019, following Brexit, the UK will introduce the Data Protection Act 2018. This new legislation will make some small changes to data protection compliance.
When the law does change we will update the compliance kit. Giving you a toolkit that will stay up to date at all times.
Once we notify you of an update to the kit you can simply download the new or updated document from the kit.
Then you can have a free download of the latest version. You can then always keep up-to-date and compliant at no further cost to you!
None of our competitors offer this, so get the Legalo advantage today. For more details on what sets us apart from our competitors click here.
Using Our Compliance Kit
Each of the document templates within the gdpr kit is downloadable in Word format. Once download the document can be edited to suit the specific requirements of your organisation.
Whether you are a limited company, sole trader, partnership or a charity the kit has all of the document templates that you will need.
We have included detailed guidance notes for each of the templates within the kit. The guides take you through completing the templates in a step by step manor.
Why Be GDPR Compliant?
Under GDPR there are considerable penalties for any organisation that does not comply with the requirements of GDPR. The Information Commissioners Office (ICO) can fine any organisation for its failure to be GDPR compliant.
It is not necessary that a data breach causes loss to an individual before the ICO can fine the organisation. 
However, if an organisation is not GDPR compliant and there isa  data breach it is possible that it will be fined twice.
Once for its failure to implement GDPR compliance.
Then secondly for the loss to the individual (or data subject as they are known under GDPR).
Fines under GDPR can be considerable with an upper limit of Euros 10 million. Or 2% of global turnover, whichever is higher for the organisation in question.
Data Protection Act 2018 – future updates
As mentioned, we are planning an update for this GDPR compliance kit when the final text of the data Protection Act 2018 is known.
For anyone who has already bought this kit by then, we will email you once we have updated the kit and you will have free access to the updated templates. This is just part of our free updates for life service. So your gdpr compliance kit will always remain up to date.
ICO guidance on GDPR
The Information Commissioners Office publishes a wide range of GDPR and general data protection resources. For further detailed information and guidance on GDPR compliance, please see this helpful resources page on the ICO's website: https://ico.org.uk/for-organisations/business/.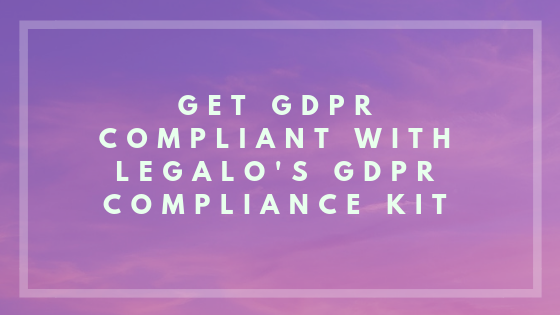 So be GDPR compliant with our great value GDPR kit created by an expert with nearly two decades of experience in advising businesses on GDPR. GDPR compliance made simple the Legalo way!