Our Non-Disclosure Letter template:
Easy to complete
Specialist-solicitor-drafted
Simple legal protection for you
Money-back guarantee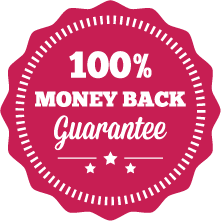 How Does It Work?
1. Download

2. Edit

3. Print

4. Sign
Do you have information about your business that you need to disclose or share confidentially? If you do, then you will need a Non-Disclosure Letter. Take away the worry that it will be stolen by using our easy-to-use Non-Disclosure Letter. This template offers you legal protection in a concise form.
It may be necessary to have a prototype made of your new product. You wouldn't want the design or design idea to be leaked, so use our Non-Disclosure Letter for proper legal protection.
If your business is working on a new idea or product, it is a good idea to have anyone involved in the project to sign a Non-Disclosure Letter. This way you will be protected from any passing of the sensitive information to another party.
If you are familiar with our One-Way Non-Disclosure Agreement, you will notice that this Non-Disclosure Letter is an abbreviated version. Because this letter is short and to the point, a business that may balk at signing the more detailed agreement will generally be more amenable to signing the shortened version that this letter provides. The letter still gives you good legal protection.
Using Our Non-Disclosure Letter Template
You should use this Non-Disclosure Letter whenever you have consultants, partners, employees, suppliers, affiliates or other parties who could be privy to your company's private, sensitive information.
You can download this template in Word format to your computer. With the template, we provide a guide to ensure that you have no problems in using this document. We strive to provide an easy-to-use form in easy-to-understand language. We will also have on hand support for you by way of a free email and telephone helpline – all to help you complete your template quickly and easily.
You will find that this Non-Disclosure Letter is great value, because it can be used as many times as you need it. Also, whenever we update it, we will send the new version to you free of charge.
Clauses in this Non-Disclosure Letter
To give you an idea what this template includes, here is an excerpt from the guide:
1. Interpretation – This clause defines the main terms used in the letter.
Confidential Information – This states what constitutes confidential information – amend the words in square brackets if need be, so that they refer to the types of information that might be disclosed under this letter.
Copies – This ensures that any Confidential Information on computer media, etc is covered, and not just hard copies.
Discloser – Here fill in the details of the party sending the letter. If they are a person and not a company, use the following format: "[NAME] of [ADDRESS]".
Permitted Purpose – Fill in the details of what the purpose is of the recipient's receiving this information, e.g. to enter into a possible joint venture project together.
Recipient – Here fill in the details of the party the letter is addressed to. If they are a person and not a company, use the following format: "[NAME] of [ADDRESS]".
2. Purpose and use of disclosed information – Clause 2.2 provides that the confidential information is only to be used for the permitted purpose. Clause 2.3 provides that any information disclosed prior to the date the letter is signed is also to be protected. Please note however that this is not ideal, and may not work if you did not state verbally that the information was to be kept confidential at the time it was disclosed – you should only disclose sensitive information after both parties have signed such an letter. Clause 2.4 extends the protection to any copies the recipient makes as part of the permitted purpose, and states that the discloser can require the originals and all copies to be returned, destroyed or erased.
3. Obligations – In addition to clauses 2.2 and 5, this clause sets out the rules for the protection of the confidential information – what the recipient can and cannot do.
4. Exceptions – This clause acknowledges that if the information has lost its characteristic of being confidential, the protection of the letter no longer applies to it. It is therefore important that the discloser is careful to maintain the secrecy of its information. These exceptions are standard provisions.
5. Permitted third party disclosure – This clause restricts the recipient passing on the information, even to members of staff. Choose which of the 2 options in clause 5.1.1 you prefer – the first is the more restrictive.
6. Copies – This clause means that copies must be limited in number, protected by the recipient and owned by the discloser.
7. Forced disclosure – In exceptional cases a court or other governmental authority having special powers might order disclosure of the information by the recipient. The recipient will have to comply if this is the case, but clause 7.2 sets some steps that must be taken first to demonstrate this is the case.
8. Term and termination – Even though the terms of this letter can be terminated by either party on notice, the confidentiality provisions will survive and remain in place without a time limit.