Deed of Assignment of Debt
Our Deed of Assignment of Debt template:
Assign a debt without the need for a solicitor
A solicitor-drafted template for reliability
Detailed guidance notes for easy drafting
Our no-quibble money-back satisfaction guarantee
Approximately 10 minutes drafting time required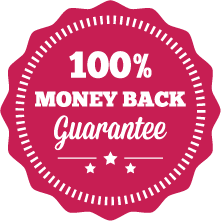 Saved a lot of time and expense by using Legalo. They provided an easily understood draft deed with easy to execute guidance notes. Will use their services again.
– Mr L of Wargrave
How Does It Work?
1. Download

2. Edit

3. Print

4. Sign
Use our Deed of Assignment of Debt template to transfer (or sell) the right to recover a debt. To transfer a debt legally between parties, it is necessary to enter into a written transfer document. Once the transfer document has been signed by the Assignee (the party transferring the debt) and the Assignee (the party receiving the right to collect the debt), notice must be given to the debtor (the person or company that owes the money). The notice should be given within 7 days of assigning the debt. So we have included a template notice with the download. Unless someone gives the notice to the debtor, then the new owner of the debt wouldn't be able to enforce the debt by suing in Court.
For general information about what an assignment is, have a look at this Wikipedia entry.
How to Use our Deed of Assignment of Debt Template
The deed of Assignment of a debt is in template form so that you can edit it to your specific circumstances. You can download it in Microsoft Word. Once you have download it, you can edit the template agreement with the help of our guidance notes, which we include with the download.
An Assignment of Debt is a simple agreement. As a result, the drafting time you need to complete the document is minimal.
A UK solicitor experienced in this area of the law has drafted the template. Therefore you get the peace of mind that you are using a suitably-drafted agreement. You have the added benefit of substantial savings on hiring a solicitor yourself.
Giving Notice of the Assignment
As we state above, it is important that someone gives notice of the assignment of the debt to the debtor. Either party to the deed of assignment of debt can give the notice to the debtor.
If you are the party receiving the assignment of the debt, then we recommend that you get the Assignor to sign the notice and send it to the debtor yourself. That way you can be certain that it gets there. So send it by recorded delivery or "signed for".
Here at Legalo we provide cost-effective document and agreement templates to businesses to enable them to do more legal matters themselves. Take a look at our range of debt recovery letters to assist your business in better credit control.