Notice of Assignment of Debt
Our Notice of Assignment of a Debt template:
Give notice of the assignment of a debt
Solicitor-drafted notice for peace of mind
Easy-to-edit template for fast drafting
Less than five minutes drafting time required
Legalo's no quibble money-back guarantee assurance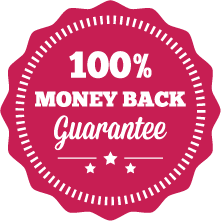 How Does It Work?
1. Download

2. Edit

3. Print

4. Sign
Our Notice of Assignment of Debt template is for use when notifying a debtor (the person or company that owes the money) that the debt that they owe has been assigned (sold or transferred) to another individual or company.
When a debt is transferred, it is a requirement that notice is given to the debtor of the assignment, transfer or sale. This is a requirement for a legal assignment. The relevant law is section 136 of the Law of Property Act 1925. If notice has not been appropriately given, then the party to whom the debt is assigned will not be able to enforce the debt in the Courts and get a judgment order if needed. Also the debtor would still be assuming they should pay the original lender or owner of the debt. The new owner of the debt would not want that to happen.
If you've not yet assigned the debt, then you need to do that first. Then instead of this template, buy our template deed of Assignment of a Debt. Please note that this notice template is only the notice and does not include a deed of assignment of the debt. However, the Deed of Assignment of a Debt template does also include this notice of assignment, so you do not need to buy both.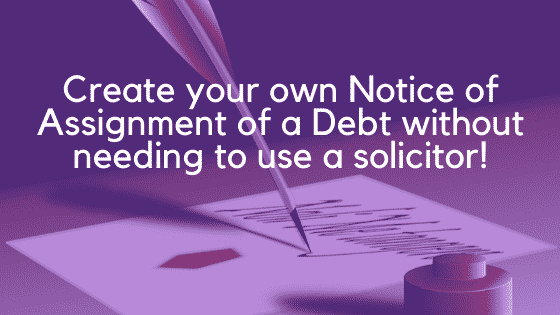 Using Our Notice of Assignment of Debt Template
Our notice of assignment of debt template precedent is very simple to use. The template has been drafted by a solicitor to ensure that, whilst it is short and simple, it includes all the necessary details.
We have drafted the document as a simple form. You simply need to add in the information within the square brackets that is particular to your circumstances. Delete any remaining square brackets to produce a final form notice.
Once you have completed the notice, then it needs to be:
signed by the party assigning the debt; and
then sent to the party that owes the money (i.e. the debtor).
We recommend that you send the notice by recorded delivery i.e. "signed for". This way you can prove in Court, should you need to, that the debtor received the notice.
As with all our templates, you buy it once. Should the need arise, you can reuse it for your own purposes as many times as you need to. Also if we ever update the template, you will always have access to the latest version. You need never pay again to use it. Get the Legalo advantage.