Our Copyright Assignment template:
Transfer Copyright with our assignment of copyright template
Solicitor drafted template agreement for reliability
Full guidance notes included for fast, simple drafting
Includes our money back no quibbles guarantee
How Does It Work?
1. Download

2. Edit

3. Print

4. Sign
Use our Copyright Assignment Template to transfer copyright from one party (the Assignor) to another party (the Assignee). The template can be used to transfer the copyright in any material in which copyright exists.
When To Use a Copyright Assignment Template
Use our template if you are the owner of the copyright and you want to:
A) Sell the copyright in something to another party.
B) Gift the copyright in something to another party.
The copyright being transferred can be anything in which copyright exists. I.e. any literary, dramatic, musical or artistic works or a sound recording.
Do I need An Assignment of Copyright Agreement?
For copyright to be assigned from one party to another it needs to be completed via an 'instrument in writing'. This is required to comply with the Copyright, Designs and Patents Act 1988. This means that you need to put in place a written agreement to legally transfer the copyright.
The agreement documents the terms on which the transfer has taken place. In addition there is no register of copyright in the UK. As a result the transfer document acts as proof that the copyright has been assigned. It also details who the owner of the copyright is and whether there are any restrictions or terms attached to the assignment.
Using Our Copyright Assignment Template
Once you have purchased the template you can download it in Word format and begin editing the document to create your copyright assignment agreement.
The template contains [square] brackets which shows you where to edit the template with the information that is specific to your situation.
This will be details such as the name of the party that is transferring the copyright and the name of the party that is purchasing the copyright (or receiving it if it is being gifted to them).
If money is being paid for the transfer of the copyright then the amount can be added within the agreement. If, however, the copyright is being gifted then the clause can be edited to confirm that no payment is being made.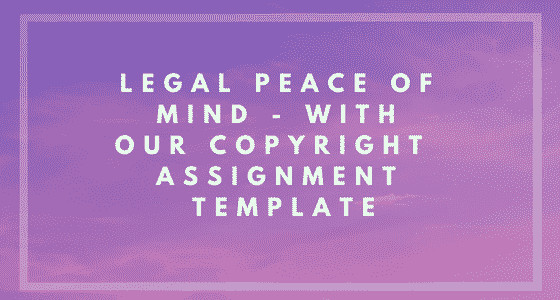 If you have any questions relating to the copyright assignment template please do contact us.