Deed of Grant of Easement
Our deed of grant of easement template:
Easily put in place a legally binding easement.
Solicitor-drafted template for peace of mind.
Full money-back guarantee if not satisfied.
Step-by-step guidance notes included.
Now over 100 sold!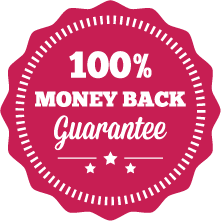 How Does It Work?
1. Download

2. Edit

3. Print

4. Sign
This is our Deed of Grant of Easement template. If you intend to grant an easement (such as rights of way or permission to run utility pipes or cables) for the benefit of adjoining land, then you can do so after using this template deed. Our guidance notes make it easy to complete this deed without prior legal knowledge. Use this deed for property based in England or Wales – do not use it for property based in Scotland.
Our solicitor and co-founder, David, has drafted this template deed, for reliability and cost-effective legal peace of mind. This document is suitable for residential and commercial property.
Use this deed to grant a "legal easement" by "express grant". I.e. where both parties agree to the easement.
Now over 100 Deed of Easement templates sold!
What is a Deed of Grant of Easement?
A Deed of Grant of Easement will enable one property (known as a dominant tenement) to have rights over a piece of land (the servient tenement) that is owned by another party. There are many reasons that you might want to use a Deed of Grant of Easement. For example, if one property owner wants to grant a neighbouring property a right of way over their property. Granting a right of way is the most common reason that our customers use this template.
As with all of our commercial  or residential property templates, the Deed of Grant of Easement is very easy to use and you will have no trouble downloading the template to your computer in Word format.
If you need to reuse this template at any time, you will have it available for no extra charge. If we update the template, we will notify you by email (you also get the updated version for free).
We include full guidance notes with the Word download. The notes take you through each step to completing the Deed.
You can view a sample of the Deed by clicking on the document 'Preview' button.
When to Grant an Easement Over Property
There are many situations when you would use the Deed of Grant of Easement. A common example is when the owner on an adjoining piece of property needs to cross your property. This could occur if they need to put a small portion of their driveway on your land, because of the way the boundary lines were formed.
Another reason you may have to use a Deed of Grant of Easement is if the tenant on the land next to yours must place underground services. There may be a need to dig a ditch on your property to provide for utilities supplying a neighbouring property. For example, this might be for mains water, sewerage, electricity, gas, television, cable or phone lines.
The Deed of Grant of Easement will state the terms of the easement. Therefore, it will not permit any no unnecessary use of the land. You could also use a clause in a conveyance deed or a transfer deed. However, it is better to use a template that has been designed specifically for this purpose.
When you purchase the template from us you will find that filling it out will only take a short time. We have designed the template (like all of our commercial property templates) to be very inclusive yet easy to use. You can buy your Deed of Grant of Easement with confidence from our website.
How To Use Our Easement Template
Once downloaded you fill in the Deed of Easement template just like a form. Read the guidance notes first. Then work your way through completing the Deed using the template. Once drafted the Deed can be signed. Both parties must sign the Deed of Variation in the presence of a witness.