Anti-Bribery Policies – Why and How
Posted by Stephen on January 21, 2018
This short guide explains why a business needs an Anti-Bribery Policy, what the law is and how to go about implementing a policy of your own. We also look at who in the business should be responsible for the management of the anti-bribery policy and its ongoing review.
What Are The Bribery Offences?
The Bribery Act 2010 was implemented in 2011 and brought in a range of, mainly new, criminal offences, in order to eliminate bribery within business organisations.
The Act created the following offences:
Bribing another person

Accepting a bribe

Bribing a foreign public official

Failing to prevent bribery
What Penalties Can be Applied For Bribery?
The four offences listed above are all criminal offences.
So this means that the individuals involved, and potentially the directors of the company, could face a prison sentence and / or a fine.
If it is a limited company, then the business itself would face a fine.
Do You Need an Anti-Bribery Policy?
It is not a legal requirement to have a bribery policy for the business. However, if a bribery offence takes place within the business or by a business that acts on behalf of the business a defence will not be available if a policy has not been put in place.
Why you need an anti-bribery policy?
Well section 7 of the the Act makes a business (including its directors) liable for a bribery offence committed by an 'associated person'. This is defined to include people who perform services on behalf of the company but are not employed by it. So this means sales agents, consultants, subsidiary companies and joint venture partners are all a common risk area here.
Section 7(2) provides a defence to the business if they can show that they have adequate procedures in place to prevent bribery within their organisation of by 'associated persons' in other business organisations.
What do adequate procedures mean?
Having in place 'adequate procedures' involves more than just putting in place an anti-bribery policy.
The Ministry of Justice has published guidance, which states that a business should adopt an ongoing approach involving review, risk assessment and appropriate action. They published six principles which should be considered:
First Principle: Proportionate procedures.

Second Principle: Top level commitment.

Third Principle: Risk assessment.

Fourth Principle: Due diligence.

Fifth Principle: Communication.

Sixth Principle: Monitoring and review.
The guidance makes it clear that proportionality is key, i.e. that the extent to which a business needs to monitor and protect against bribery depends on what risk levels the business identifies there are.
In addition, implementing an anti-bribery policy within the business is important, so that all staff are aware of:
this area of risk; and

what does and does not constitute business bribery.
Gifts and hospitality are another key area to consider.
Why consider gifts and hospitality?
Well, section 2 of the Act makes it an offence for failing to prevent bribery. Without an internal anti-bribery policy directors of a company are liable for bribes employees of the company receive.
If you trade with a large commercial organisation as a supplier to them, then it is quite possible that they will ask you for a copy of your anti-bribery policy.
Larger organisations often also create and publish an anti-bribery statement. That is usually an edited version of the internal policy document, which you adapt to tell external parties what the business's approach to preventing bribery is.
Therefore, given the serious risks involved, the senior management of the company should be responsible for:
drafting the policy;
its implementation; and
its ongoing review.
To Whom Does An Anti-Bribery Policy Apply?
An anti-bribery policy is an internal-facing document that should be provided to all employees within a business. Ideally you would include it within the staff handbook.
The policy can also be provided to external parties, such as:
sales agents;

consultants; and

anybody that finds leads, negotiates or secures contracts (for sales or purchases) on behalf of the business.
So how do I create a suitable Anti-Bribery policy?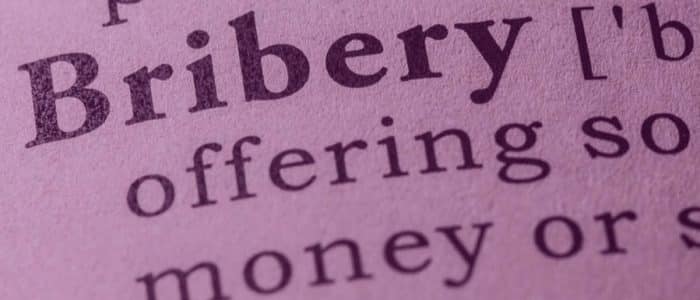 Legalo's helpful range of templates includes an Anti-Corruption and Bribery Policy, which is part of our HR Handbook range of templates. With our template and its accompanying guide, it will be quick and simple for you to create your own policy. It should take just a few minutes. For more information on the template policy just click here.
Get Legal & Compliance tips straight to your inbox, free!
"*" indicates required fields