Commercial Rent Arrears Recovery – CRAR
Posted by David Cammack on September 18, 2019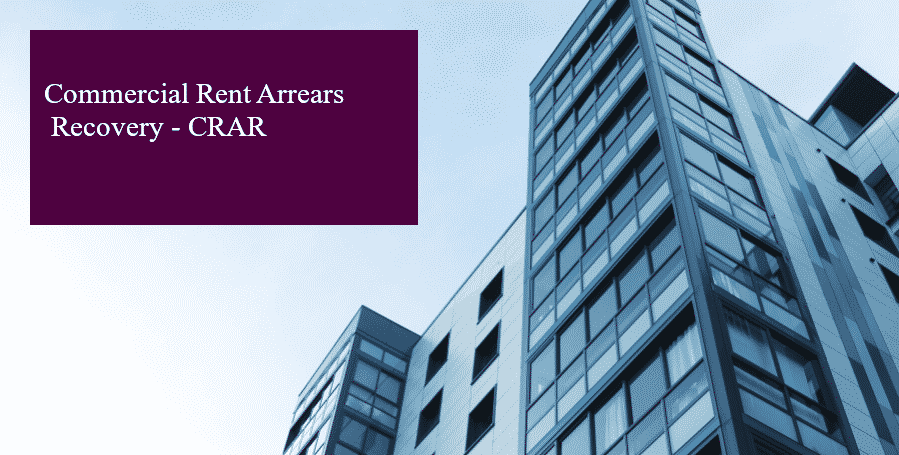 This note on Commercial Rent Arrears Recovery only applies in England and Wales.
Landlords of commercial premises in England and Wales needing to claim arrears of rent from their tenants will now follow the Commercial Rent Arrears Recovery ("CRAR") process.
What is Commercial Rent Arrears Recovery?
 CRAR is a procedure set out in the Tribunals, Courts and Enforcement Act 2007. It came into effect on 6 April 2014 and from then on it applied to all new and existing commercial leases of premises in England and Wales. It enables commercial landlords to claim arrears of rent through seizing goods of the tenant, selling the goods and using the proceeds of sale to pay off the rent arrears, but it replaces the previous distress process.
The process called "distress" or "distraint for rent", under which, in a similar fashion, the landlord seized goods and sold them to pay off rent arrears has now been removed for commercial landlords. (The Rent Act 1977 removed it for residential landlords some years previously.)  Objections to distress, generally based on claims it interfered with the tenant's human rights (one might think most businesses do not have human rights), led to the government replacing the distress remedy with CRAR.
How does Commercial Rent Arrears Recovery work?
The old distress process was almost instant – the landlord could send a bailiff round to seize the commercial tenant's goods, with no warning once rent was in arrears (the exception being in some insolvency situations). This meant the tenant had little warning and would not be able to move goods or take other action to thwart the landlord. However, now under CRAR, a landlord has to give the tenant 7 clear days' notice of his using CRAR (excluding Sundays, Bank Holidays, Good Friday and Christmas Day). Only then can you make the seizure.
There is no need for there to be reference to CRAR in the lease for the landlord to be able to use it.
How does CRAR apply?
There are however some requirements and drawbacks to this Commercial Rent Arrears Recovery process:
The lease must be in writing. You cannot use CRAR for a licence to occupy.
You can only use CRAR in relation to premises that are purely commercial. It is not for residential leases or for mixed use premises.
You only use CRAR to recover principal rent. You cannot used it to recover other sums (e.g. rates, service charges, insurance premiums or other payments reserved as rent).
A minimum sum equivalent to 7 days' rent needs to be outstanding before any action can be taken.
Landlords must only use this CRAR process. Any alternative (and the old distress process) is invalid and potentially a criminal act.
The CRAR process
A Certificated Enforcement Agent (not another type of bailiff) must serve a 7-day notice of enforcement, including set information. You can apply to the court to reduce the notice period if there is a risk of the tenant moving the goods (for example if insolvency is impending). This may be impractical.
After the 7-day notice period,  the Certificated Enforcement Agent can go to the commercial premises to seize the tenant's goods.
The Agent may only enter the premises via an open or unlocked doorway.
The agent can only seize goods at certain times: between 6am and 9pm on any day of the week, or outside of those hours if the premises are open for trade then.
The Agent can only seize certain types of goods: (a) goods a sub-tenant owns or another third party owns cannot be seized; (b) neither can the tools of the tenant's trade under a total value of £1,350, but over that such tools can be seized. The agent must also take an inventory of them.
The Agent must have the seized goods valued and wait at least 7 days before selling them.
There is a time limit of 12 months for seizing goods following the notice.
When can you not use CRAR?
 CRAR is not usable if:
The premises are mixed use or residential, as we note above (read our follow-up article on this here).
The lease has come to an end, been terminated or expired (there are certain exceptions to this).
You cannot calculate any of the rent arrears exactly (for example rent based on turnover).
The premises are not in England or Wales.
For a sub-tenant, a head landlord can demand that the sub-tenant pays their rent directly to the head landlord. This then bypasses an intermediate tenant, to clear any rent arrears of the intermediate tenant. They would follow a statutory procedure akin to CRAR (however, 14 days' notice is needed instead of 7).
Therefore, you can see that the replacement of the distress procedure with the CRAR causes some significant difficulties for landlords. There will be a greater chance they will not receive the rent arrears. There is a greater chance that you  make mistakes in the recovery process, thus invalidating it. Removing non-rent arrears from the process is also going to cause landlords problems. Also there will be greater enforcement costs, through having to use two routes, when previously one would do.
For more details on distraint and CRAR, have a look at Wikipedia.
For Legalo's superb commercial property templates click here.
Get Legal & Compliance tips straight to your inbox, free!