Licence to Occupy Residential Property with Guarantor
Our Residential Licence to Occupy with Guarantor template:
Over 100 of our standard version have been sold!
With added "guarantee" function at no extra cost
Easy drafting with our full guidance notes
Peace of mind and a reliable contract with your tenant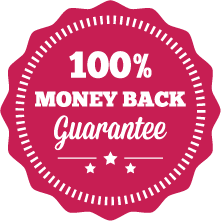 How Does It Work?
1. Download

2. Edit

3. Print

4. Sign
Our Licence to Occupy Residential Property with Guarantor template is for use by an owner of residential property when:
taking in a someone who is effectively a short-term lodger. (NB not one that will be living in the owner's home.); and
having their obligations (such as the payments due) guaranteed by someone else.
It is a licence to occupy a room in the premises on a short-term and non-exclusive basis. It is naturally very similar to our standard licence to occupy residential property, but it comes with an additional clause at no extra cost for use when you want the occupier's obligations guaranteed. For a guarantee to be valid and enforceable in court, it must be in writing (as required by the Statute of Frauds 1677). A verbal guarantee is not enforceable.
We would advise you to read up on when to use (and when not to use) any licence to occupy and the law that affects their use, so please have a look at our standard template page here which covers this in reasonable detail. For the guide to the template, please look at this guide page for all the main clauses on the standard licence to occupy. Below we have set out the comments from the guide to this guaranteed template that are different to our standard template's guide.
Clauses in this Licence to Occupy Residential Property with Guarantor template
Party clauses – You will need to insert the names and addresses of the parties. If the licensee is more than one person, put both their names and address here. Then add the word 'together' before it says ' "the Licensee" '. If the guarantor is more than one person, do the same for them.
Numbered clauses
9. Guarantor – This is the clause under which the guarantor gives the owner a guarantee. The guarantee is that the lodger will comply with the terms of the agreement. Note that no guarantee is valid if only verbal. So it must be in writing for you to be able to rely on it. This is as provided by section 4 of The Statute of Frauds 1677.