What is a Deed of Covenant for a Lease? Your Top Questions Answered
Posted by David Cammack on March 3, 2021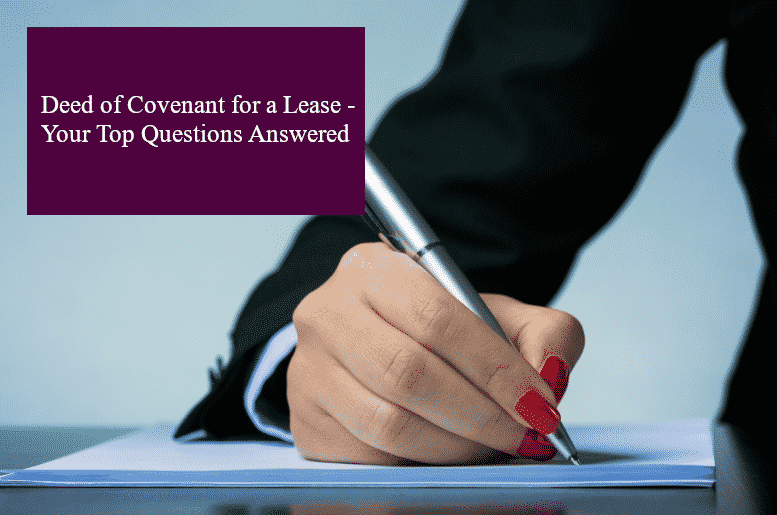 You may need a deed of covenant so that you can transfer the remaining term of a long leasehold flat. But what is one? This blog article tackles the most common queries from the Internet about Deeds of Covenant for Leases.
1. What is a Deed of Covenant for a Lease?
Where you have long leasehold property, this sort of deed may be required from the person to whom you are selling your property title. Generally the lease will state whether you require one. It is a short document which the new owner would sign to say that they agree to be bound by certain terms in the lease. For example, such terms might be:
the requirement to pay the ground rent to the landlord and to pay the service charges levied each year to the management company; and / or
various other 'positive' covenants with which the new tenant will have to comply (these are ones under which the tenant will need to spend money to comply with them).
2. What is the meaning of "Deed of Covenant"?
A deed of covenant might mean several different types of document. It is where one person agrees to do something or be bound by a contract or certain terms that they were not already a party to. In the context of a leasehold property, such a deed is generally the document you need when the lease requires the new owner to confirm that he or she agrees to certain terms in the lease.
Here's a Wikipedia article on deeds of covenant that explains further: https://en.wikipedia.org/wiki/Covenant_(law)#England_and_Wales
3. When would you need a Deed of Covenant?
The lease to your leasehold property should state whether or not you need a deed of covenant. This would apply only when you are transferring the title to the flat to someone new. You will need to check the terms of the lease carefully. Otherwise when you tell the landlord you are transferring the title, he might ask for a deed of covenant. There might also be a small administration fee to pay the landlord at that point.
As a technical point, a deed of covenant should not be needed for a lease granted on or after 1 January 1996 (see section 12 of the The Landlord & Tenant (Covenants) Act 1995), but newer leases might state that they require them and certainly older leases will require them still. For a newer lease, it is easier to comply with the requirement, than to argue that you don't need one.
4. What should you do if you need a Deed of Covenant for a Lease?
If you've been asked to produce a deed of covenant, the simplest way is using our Deed of Covenant template. You will find it easy to use to produce your own document in a few minutes. It comes with a guide to talk you through what you need to do. You can then submit it to the landlord and pay the administration fee charged, if there is one.
If you have further questions about Deeds of Covenant for Leases, please contact us and we'll do our best to help you.
Get Legal & Compliance tips straight to your inbox, free!