Our Secured Loan Agreement template:
expertly-drafted template for peace of mind
includes provision for security to be taken
easy to edit and complete
full guidance notes included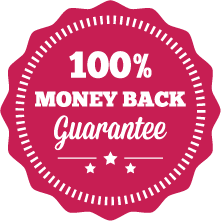 How Does It Work?
1. Download

2. Edit

3. Print

4. Sign
This is our Secured Loan Agreement template. This agreement requires that the borrower provides security against the loan.
The secured loan agreement has been drafted in a flexible manner and can be edited to provide for interest to be charged or for the loan to be interest-free. The loan agreement can be edited to cover the situation where repayment will take place periodically or where repayment is to be made in one lump sum.
It works for loans to or from individuals and companies. This template presumes that:
there is security being provided to the lender for the loan by the borrower; and
there is no separate guarantor of the loan.
If these are not the case, then you may need one of Legalo's other loan agreement templates that would better suit you.
Separately, you will need to buy either (a) our Legal Charge template if you are taking security over an individual's or a company's freehold property or (b) our Debenture Agreement template if you are taking security over a company's assets in general.
For more explanation on how our two templates work together to provide you with security for your loan, have a look at this blog article. Here is what Wikipedia says about security for loans.
Discount Packages
Alternatively, if you want to buy both of the two templates you will need together, we offer them as packs at a 20% discount:
Guide to our Secured Loan Agreement template
For a preview of the guide to the secured loan agreement, please see our very similar guide to our general loan agreement, and note the following main change to it. (The full guide accompanies the template when you purchase it.) We have added an additional clause to allow a person other than the borrower to provide security for the loan.
Security – This refers to the security the borrower is to grant. Select whether it is to be a legal charge over a freehold property (i.e. a mortgage) that the borrower owns or a comprehensive debenture over all of the borrower's assets (a debenture commonly creates a series of fixed charges over most of the borrower's assets and a "floating" charge over cash and stock, permitting the on-going use of cash and the sale of stock).
NB Only a company can grant a debenture. Therefore, if the borrower is an individual, then delete the option that refers to a debenture. Legalo have templates available separately for you to use for the legal charge or debenture. As noted above, such security should be put in place at the same time that the loan is made. If you only do it afterwards, it might well affect its validity. The last thing you want with a loan security is the Court to rule that the security is invalid when the time comes for you to rely on it.
Using this Secured Loan Agreement template
Once downloaded, you can use the secured loan agreement as many times as you require. It is downloadable in Microsoft Word format and includes full guidance notes. The guide explains the template clause-by-clause, to make it simple to complete. It tells you where you need to fill details in or choose different options. The average drafting time is fifteen minutes.
David, our co- founding solicitor of over twenty years, drafted this template. Therefore, you get a document template that you can rely on. For extra assurance, we also offer a full money-back guarantee of satisfaction on all of our document templates. (See our FAQs for more details of this.)
Just don't forget to buy the legal charge or debenture template you require if you don't already have a template for the one you need.