Shareholders Agreements – Your Top Questions Answered
Posted by David Cammack on March 13, 2019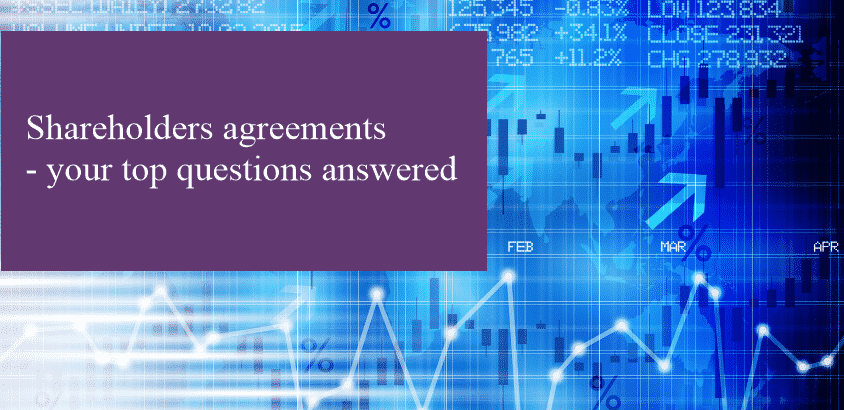 If you're unsure about what the purpose of a shareholders agreement is, whether you need one, or what it should contain, then this article is for you. Here we answer the top 6 questions from the Internet on shareholders agreements.
1. What is a shareholders agreement?
A shareholders agreement is a contract between (ideally) all of the shareholders of a company. It supplements the Articles of Association, which are often very basic (for example the Model Articles under the Companies Act 2006 or the "Table A" Articles from the Companies Act 1985). The standard Articles most companies adopt when they are formed usually do not adequately (or at all) address:
the fair valuation of shares;
how a shareholder can retire and sell his shares;
how to resolve shareholders' disputes;
providing adequate protections for minority shareholder interests; and
resolving deadlocks in companies owned 50/50 by 2 shareholders.
In a company with more than just one shareholder, missing these essential items will at some point land you in a complete mess. In their standard form, both the Model Articles and the Table A articles are only suitable for a company that has only one shareholder. Sadly, these are usually the Articles most private companies have, as adopted in their standard form when the company was formed, with no appropriate modifications and no shareholders agreement.
A good agreement will fix this and make life much simpler.
2. Do I need a shareholders agreement?
If (a) you have more than 1 shareholder in your company and (b) you do not have customised Articles of Association that already deal with the essential things that a shareholders agreement covers (see "What is a shareholders agreement?" above), then the answer is always, "Yes, you need a shareholders agreement". For more on this see, "Why have a shareholders agreement?" below.
3. Why have a shareholders agreement?
If you have identified that you need a shareholders agreement, then you might want to know why you do.
Your company's Articles are usually totally inadequate for the needs of a company with more than one shareholder. For example, without a mechanism to resolve disputes and value shares:
the company could be deadlocked in a stalemate; and
a shareholder who wants to leave and sell his shares may find that the other shareholder is reluctant to buy them out or to pay a fair price for the shares.
Worst still, if a shareholder dies, the surviving spouse may:
be left with no right to be a director;
have no access to the accounts of the company, and
want to sell the shares but have no power to force the other shareholder(s) to buy them.
In desperation to sell, she may end up selling for far less than their true value (yes, this really happens).
A shareholders agreement can fix all this, protect the value of your shareholding and provide for your loved ones.
A contract for the shareholders also deals with disputes between shareholders. The main benefit is that the dispute resolution mechanisms which the contract contains mean they head off a shareholders' dispute before it develops into a problem. A good contract between the shareholders will:
avoid a legal dispute escalating;
save thousands of pounds in legal fees;
avoid wasting management time; and
thus you avoid heartache and stress.
To read more, see our blog post on "5 Reasons Why Your Business Needs A Shareholders' Agreement".
4. How to draft a shareholders agreement
While you can use a firm of solicitors who specialise in company law matters, bear in mind that it will be an expensive exercise. Instead, equipped with the right tools, you can do this yourself. You can save a considerable sum at the same time.
Legalo has made this simple for you. You don't need to start from a blank sheet of paper. We have a template shareholders agreement that you can use for £44.95. It does all the hard work for you.
5. What should a shareholders agreement contain?
We have a separate blog post on this topic. See our blog post "Four Clauses That Should Be In Any Shareholders' Agreement" for the key clauses that such an agreement needs. Legalo's template already covers all of the key topics. To see all of the topics our template covers, click on the link to the guide to the shareholders agreement template.
6. Do all shareholders have to sign a shareholders agreement?
To be bound by the agreement, a shareholder would need to:
be a party to it and sign it or
sign a "deed of adherence" to say that he agrees to be treated as a party to an existing shareholders agreement and to abide by its terms.
The latter is often used where a new shareholder joins the company after the original shareholders agreement has been adopted.
Ideally, every shareholder would sign the agreement. Then they are all subject to the same rules, and the share transfer and disputes resolution mechanisms cover everyone. It can still be of some benefit if a significant majority sign it, even if not everyone is willing to do so.
Take action to protect the value of your shareholding
So now we've convinced you of why you need a shareholders contract, what are you waiting for? Take action to protect your shareholding now by downloading our template shareholders agreement.
If you have other questions, we're here to help – just contact us.
Get Legal & Compliance tips straight to your inbox, free!